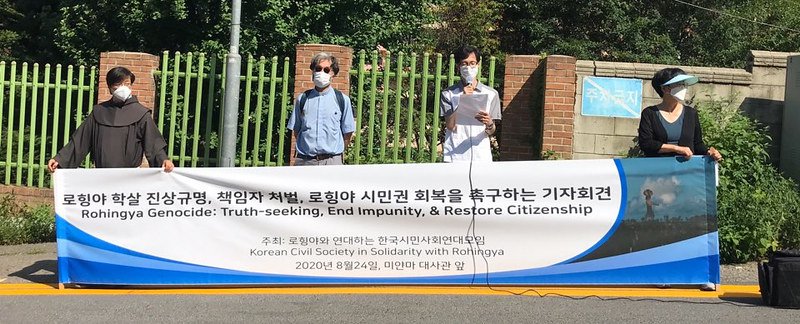 On August 25, 2020, it marked 3 years since more than 800,000 Rohingya fled Myanmar to save their lives and what the UN now calls a "genocide". Tens of thousands of people were killed, arson, sexually abused, and suffered from many other crimes committed against them by Myanmar's military. Yet, still, Myanmar's government denies the Rohingya massacre. The international community's response to the 800,000 Rohingya people who managed to survive is also insufficient. The Korean government's response is very passive.
The Jeju Dark Tours and 30 other civil rights organizations in South Korea are calling on the Myanmar government and international society including South Korean government to take a responsibility for Rohingya massacre.
On August 24th(Mon) 2020, a press conference was held to demand justice for Rohingya in front of the embassy of Myanmar.
To prevent the outbreak of Corona 19, a minimum number of people attended the press conference wearing masks.
The Third Rohingya Genocide Remembrance day: We must move forward for justice even during the pandemic.

It has been three years since the Myanmar government committed genocide against Rohingya on August 25th 2017. Thousands were killed, arson and sexual violence were committed, and as a result, 800,000 Rohingya people fled to save their lives. However, a full-scale of truth-seeking investigation over the genocide has not proceeded with no perpetrators left punished.

On January 23rd 2020, the International Court of Justice (ICJ) has ordered the Myanmar government to take all measures within its power to prevent the genocide from continuously taking place against Rohingya and International Criminal Court (ICC) launched an official investigation. Meanwhile, the UN has been gathering evidence and information about the genocide and published reports. However, Rohingya refugees continue to face challenges in Bangladesh refugee camps, and yet none of the perpetrators was punished.

Even now, the Myanmar government denies the genocide against Rohingya and has not taken any measures to guarantee safe repatriation. Acknowledgment of genocide and apologies toward Rohingya are hardly found in Myanmar. Moreover, the international community response has been insufficient not only on Bangladesh refugee camps but also on Rohingya stranded at sea who were exposed to human trafficking.

The COVID-19 Pandemic has put Rohingya who is already in humanitarian crises in more despair. Rohingya in Bangladesh refugee camps who has been struggling with trauma from genocide and the camps with poor conditions are not safe from COVID-19. Unfortunately, relief and assistance to correspond COVID-19 in refugee camps were reduced. The international community has failed to take effective measures to address COVID-19 crisis and protect victim-survivors who fled from genocide.

The Korean government has been passive in response as well. The Korean government and corporations remain in silence on the genocide and continue a 'business as usual' relationship with the perpetrators, which is nothing but a challenge to value of democracy and human rights that our society has tried to nourish. We have continually emphasized that Korean corporations' investment should not associate with corporations run by the Myanmar military or should not violate human rights of Rohingya people. In addition, we have called for selective assistance of the Korean Official Development Assistance(ODA). Moreover, we have requested to expand the humanitarian support to Rohingya refugee camps threatened by COVID-19. Nonetheless, our demands were not properly accepted.

It is everyone's responsibility to end the impunity of those who have committed crimes and support victims to live safely with dignity. COVID-19 must not be used as an excuse to ignore such responsibility. Commemorating the victims of genocide, the Korean civil society is determined to continue to take actions in Korea and demands the following:

First, the Myanmar government must immediately execute orders by ICJ and actively cooperate with ICC's investigation.

Second, the Myanmar government must take all measures for safe repatriation and settlement of Rohingya refugees.

Third, the Korean government must be vigilant in ensuring that ODA to Myanmar and investment of Korean corporations are not associated with the Myanmar military or human rights violation of Rohingya.

Fourth, the Korean government must immediately deliver humanitarian assistance to the Rohingya refugee camp that faces a heightened risk of COVID-19.

August 24th 2020

Advocate Public Interests Law(APIL), Asia Pacific Alliance for Disaster Management Korea, Asian Dignity Initiative, Buddhist Association of Justice and Peace, Buddhist Solidarity for Reform, Committee of Justice, Peace and Ecology of Catholic Religious Men in Korea, Democratic Legal Studies Association, Franciscan, Fransiscan Missionaries of Mary, GongGam Human Rights Law Foundation, Green Party Korea, Human Rights Center of the National Council of Churches in Korea, Human Rights Education Center 'Deul', Human Rights Movement Space 'Hwal', Incheon Human Rights Film Festival, Incorporated Organization Silcheon Bulgyo, Jeju Dark Tours, Jeju Peace Human Rights Institute WHAT, Jesuit Research Center for Advocacy and Solidarity, JPIC Commission (in The Association of Major Superiors of Women Religious in KOREA), Korea Institute for Religious Freedom, Korean House for International Solidarity, Korean Solidarity for Overseas Community Organization, Migrant center FRIENDS, MINBYUN - Lawyers for a Democratic Society International Solidarity Committee, NANCEN, Refugee Rights Center, New Bodhisattva Network, OFM JPIC, People's Solidarity for Participatory Democracy, SCSH JPIC (30 organizations)
---