Chris Orabutt from the US joined Jeju Dark Tours on 15-16 Sep 2018. After the tour, Chris sent us a review of his experience with us. Thank you for sharing such an amazing review and comment! It was also nice to be with you all during the tour :)
This tour was sponsored by the Memorial Committee for the 70th anniversary of the Jeju April 3rd Uprising and Massacre.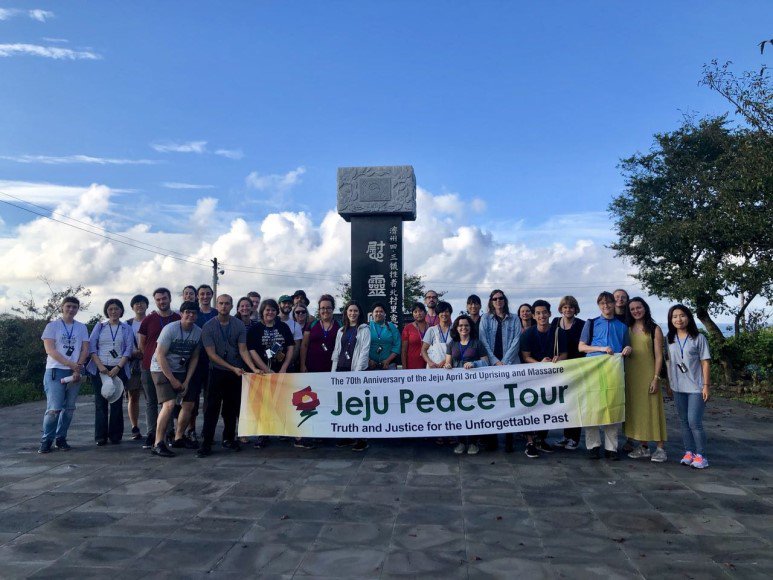 I went on the Jeju Dark Tours in mid-September of 2018. Overall, it was a wonderful experience due to the activists, the information, and the travel. The activists themselves were energized, informed, and very passionate about this topic. On this tour, we learned about the history and significance of the April Third incident. This incident was a seven year-long massacre of Jeju Island residents due to their resistance to various injustices that they incurred.
The Dark Tours did an amazing job of giving historical context of the events that took place, walking us through specific actions taken by each party involved, and the aftermath of why this event holds such great importance to be made aware of. Over the course of the tour, we visited museums, caves where Jeju Island residents hid, villages where killings took place, and even had a survivor of the incident give us a tour of her old village. Every stop on the tour gives you a small piece of history and context to this incident. The tour did a great job of offering several different perspectives of Jeju Island residents.
If you are worried about not being able to see much of Jeju Island during your visit for this tour, do not worry at all! The tour takes you to the countryside, museums outside of Jeju City, the southwestern coast of the island, and to many more locations. The atmosphere provides an interesting juxtaposition between the beauty of the island and the dark history that is largely unknown.
I can confidently say that going on the Jeju Dark Tours was the highlight of my two months living on the island thus far. Whether you are visiting Jeju Island or live here, going on the Jeju Dark Tours will not be something that you regret. I cannot recommend this tour enough.
---